The name "Pebble" no longer refers to just a single smartwatch, because there are a bunch of Pebble smartwatch models to choose from now. Including the new Pebble Time Round and Pebble Time Steel, there are at least five different Pebble smartwatch models.
The experience is similar across the board, but it's what each model can offer on its own that makes them special. For example, the Pebble and the Pebble Steel are nearly identical in terms of features with exception to the Steel's classy, durable stainless steel makeup. Does that mean the same person who wants the original Pebble smartwatch is going to want the Steel? No, absolutely not.
To make things easier, we're going to break down each model and discuss what makes them different, just like we did with our Fitbit guide. If you've been on the fence about buying a Pebble, or if you've been having a hard time trying to pick out the appropriate model, then this guide is for you!
Classic Pebble Smartwatch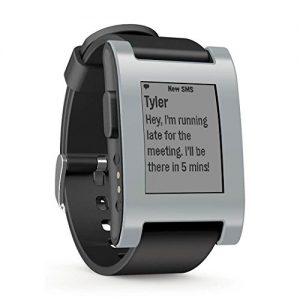 The original Pebble – now called the Pebble Classic – was the first to ever come available from the company. The device was crowdfunded through Kickstarter and was one of the most successful campaigns ever. Since the campaign, Pebble has gone on to create some of the best smartwatches you'll find.
One staple for Pebble smartwatch models is that they don't include touchscreen displays, instead, they have physical buttons placed conveniently on the side of the watch. There are a couple reasons for this, the first being that it's much easier to control the device and interactions are much more responsive. The second is that this allows the Pebble watches to have a much longer battery life than anything else on the market. The OG Pebble, for example, can last for a total of seven days on a single charge (although, this can also be attributed to the low-power e-paper displays used too).
The OG Pebble includes a monochrome (black and white) e-paper display with an LED backlight. The screen is protected by a 2.5D scratch and shatter-resistant Gorilla Glass panel, which means it's difficult to break. As mentioned above, it can get up to 7 days of total battery life on a single charge. It's also water resistant up to 50 meters, so it's not a good idea to take this snorkeling, diving, or swimming. However, it is okay to hop in the shower with it on.
It's compatible with both Android and iOS smartphones and comes in a variety of colors. One thing to note – which we'll discuss in more detail further down – is that all of the Pebble watches are compatible with regular size watch bands. This means you can swap out the stock band for any band of your choosing, which is great if you already have a leather strap that's broken in, or you just don't like the look and feel of the band that comes with the watch.
Pebble Steel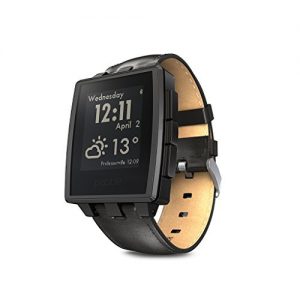 The Pebble Steel was the company's second generation smartwatch. There are no experience or UI changes, and most of the features are nearly identical to the Pebble Classic. The biggest difference is that the body is comprised of stainless steel, and the band comes in leather or stainless. Not only does this make the device that much more durable, but it looks fantastic too. Some consider the Pebble Classic to be unappealing due to its chintzy plastic body.
The Pebble Steel includes the same rectangular display shape and uses the same monochrome display as the Pebble Classic. It also has 7 days of rated battery life and is water resistant up to 50 meters.
The Pebble Steel is generally more expensive because of its premium makeup.
Pebble Time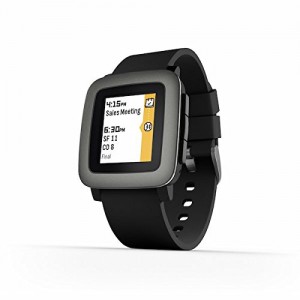 The Pebble Time was the first official update to the Pebble smartwatch formula. The company changed things up by including a color e-paper display – doing away with the monochrome design from the previous models. The display is still protected by 2D Gorilla Glass for all of the Pebble Time watches.
It still gets up to 7 days of battery life on a single charge. Sadly, the water resistance rating is lower, and the Pebble Time can only withstand up to 30 meters.
It also includes an integrated microphone for voice replies with a paired smartphone. Like the Classic Pebble, the Pebble Time works with both Android and iOS smartphones. It includes a tough plastic body and silicone band.
It also happens to be more expensive because it's one of the newer models.
Pebble Time Steel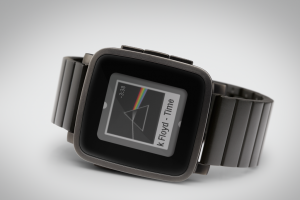 Just like the Classic Pebble and Pebble Steel share a design, so do the Pebble Time and Pebble Time Steel. They are essentially the same device with a few minor changes, like the stainless steel body on the Time Steel.
The biggest change is that the Pebble Time Steel actually has better battery life, and will last for a total of 10 days on a single charge.
It's still water resistant up to 30 meters, includes an integrated microphone, and is compatible with both iOS and Android smartphones.
Again, the Pebble Time Steel is more expensive than the standard Pebble Time model because of the stainless steel body.
Pebble Time Round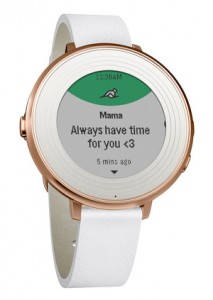 The newest smartwatch to the Pebble family is the Pebble Time Round, which actually comes in two different variants of its own: one is a 14mm size model and the other is a 20mm size model. You may wonder why there are two different sizes, and the answer is simple. One of them is designed to fit smaller wrists, and there's even a female-friendly model that comes in rose gold and white leather – it looks stunning!
Obviously, what separates the Pebble Time Round from all the others is that the shape of the device is round, and so it looks much more like a traditional wristwatch. There's no question about it, it absolutely oozes elegance and style.
The 20mm model comes in either black with a black leather band or silver with a brown leather band. While the 14mm model comes in silver with tan leather, rose gold with white leather, or black with flame red leather.
It has the same color e-paper display as the Pebble Time, except for the fact that it's round instead of square shaped. Also, because the Pebble Time Round is smaller in overall size, the battery life is lessened to 2 days on a single charge. The good news about that is it can be charged to full in just fifteen minutes thanks to a unique "fast charging" feature.
The Pebble Time Round is also splash resistant via IPX7 standards. This means it can handle water up to 1 meter for up to 30 minutes. In short, you can take it in the shower, wear it in the rain or when you're sweating, or wash your hands with it on. You cannot submerge it in water through activities like swimming, snorkeling, or otherwise.
What Do All Pebble Smartwatch Models Have In Common?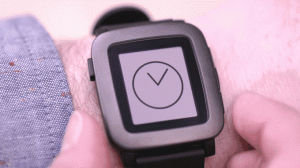 With all of these models, you can install custom watch faces, apps, and features through the Pebble app store. It should be noted that you will use a paired device to install and modify the Pebble watch. Once the app is installed on your phone – and it's paired up with your Pebble watch – you can install apps on the device, watch faces, and change settings through that app.
In addition, all Pebble watches are compatible with regular size watch bands. Depending on the size of the watch in question, it may or may not be compatible with select sizes so you'll need to look that up before making any changes. That said, you'll be pleased to know you're not stuck with the stock band if you would like to upgrade or customize by installing your own.
All of the Pebble smartwatch models have now been updated to display what the company calls their "Timeline" interface. The Classic Pebble and Pebble Steel look slightly different during operation because of their monochrome display and setup, but they are essentially the same. Therefore, the biggest thing to consider when choosing a model is whether you want a monochrome or color display, and how long you would like the battery to last.
Which Pebble Smartwatch Model Is Right for You?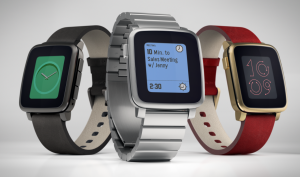 Since the experience for Pebble smartwatches is the same across the board, we're going to go over some factors you should look at when making a decision.
If you want 7 days of battery life go with the Pebble Classic or Pebble Steel. If you want 10 days of battery life go with the Pebble Time or Pebble Time Steel. If you're okay with only 2 days of battery life, go with the Pebble Time Round.
If you want a color display — instead of monochrome — choose between the Pebble Time, Pebble Time Round, or Pebble Time Steel models.
If you are on a tight budget the cheapest models are the Pebble Classic, Pebble Steel, and Pebble Time.
All models are compatible with both iOS and Android smartphones, so you can choose any of them.
They all come with basic fitness and health tracking support (no heart rate monitors).
None of the Pebble smartwatch models are waterproof so you cannot take them swimming, diving or snorkeling.
They all come in a variety of colors and styles, however, the only "true" female-friendly model designed just for women is the Pebble Time Round.