One of the main reasons why the Pebble devices have been so successful is because the software that powers them is extremely customizable. Anyone with the knowitall can create apps, watchfaces and a whole slew of software features and release it on the Pebble marketplace. This is, of course wholly different from Apple's approach to the consumer market. The Apple Watch will most assuredly be locked down and under control by the tech giant. Any apps, software or watchfaces available on the platform will be regulated by strict quality controls and elevated fees. Then again, consumers have shown time and time again that there's a market for this kind of thing.
One startup believes that Pebble has the right approach with their idea of a platform that's truly open to all. That company is called Noodoe, and they aim to create a similar smartwatch that is both simple and extremely customizable. They also believe in affordability, meaning their device will be relatively inexpensive for all.
Introducing the Noodoe Watch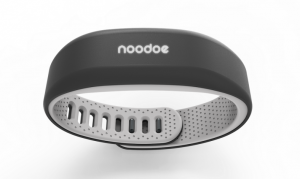 The Noodoe Watch looks a whole lot more like a fitness band or similar style wearable than it does a smartwatch. It's not packed with high-end hardware either, which means you're not going to be using this thing for its power. Then again, we can't remember the last time anyone claimed to need a powerful computer strapped to their wrist.
Instead, the Noodoe Watch is meant to be unobtrusive and easy-to-use. That also means it's easy to customize, even for those who might not have a great deal of technical knowledge. Out of the box though, it's not designed to be particularly smart. Instead, it's up to the users — the wearers — to increase its functionality.
As the Noodoe's creator John Wang claims, "This is an empty vessel. You infuse your soul into your Noodoe and it comes alive. Every Noodoe will always be unique."
How the Noodoe Watch Is Going to Work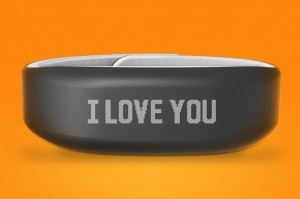 It may seem foreboding at first, the idea of creating your own smartwatch from scratch but doing so looks to be anything but difficult. For instance, creating watchfaces for the platform will be done through a companion mobile app, that allows you to inject custom images, designs and more. In addition, anything created through the mobile app will be transferred to the Noodoe smartwatch via Bluetooth 4.0.
The Noodoe Watch isn't meant to do all the usual stuff like tracking sleeping patterns, steps taken or calories burned. It doesn't include a touchscreen display either. Instead, it's controlled entirely through gestures thanks to an integrated accelerometer. Noodoe refers to this control scheme as "Motion Magic" controls. Wondering how it will work? Imagine flicking your wrist slightly to dismiss notifications, swap between information screens and more.
Wang admits that even though the company has branded the Noodoe as the Anti-Apple Watch, it's not exactly a direct competitor.
"Apple Watch has everything —it's probably going to beat every single smartwatch out there on the market."
Again, Wang and his team are more interested in customization, expression and creativity. Just imagine the kinds of things you could do with an open smartwatch platform, and you have the general idea. Hell, Pebble has already done this well so we have a pretty good idea of what's in store for the Noodoe Watch and it's users.
What we are trying to do is something different from the rest of the smartwatch market. Instead of packing in features, we're looking at wearables from the perspective of what people want. Why do they wear this device on their wrist? With Apple Watch you choose from what they give you and everything has been done perfectly for you. With Noodoe you're given building blocks and you have to create something yourself."
It's an awesome idea, especially when you factor in that most of the building blocks will be right in front of you at launch. The mobile app is not just going to allow you to customize and create watchfaces, but almost every aspect of the Noodoe's software. With a drag-and-drop style interface, anyone should be able to get started.
"Whatever you create on your phone you can transfer that to your watch," says Wang. "We want to democratize the programming, so anyone can realize their idea on the Noodoe."
It's not just limited to drag-and-drop style casual customization, however. There's an entirely different level to the creation process that involves some manner of scripting and programming. Noodoe has designed a platform called Noodoe Talk that allows anyone with an interest — and a bit of knowledge — to dive into the coding portion of the software. As you'd expect, the entire theme of creativity and personalization is preserved here, as well.
Similar to My Pebble, there will also be an online marketplace — dubbed the "watch cloud" — where Noodoe users can upload their creations for public consumption. This means, you should be able to benefit from other resourceful Noodoe owners too. It should work out great for the folks who like to tinker, but want an easier way to personalize the device with a download-and-go personality.
What Is the Noodoe Watch?
We've spent a lot of time talking about the software and ideas behind the Noodoe Watch, but so far we know little about the hardware.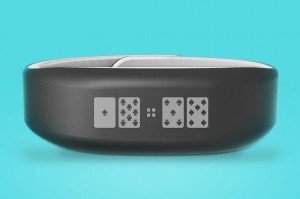 As Wang claims, "The watch is not important, it's your idea, your creation that should take center stage. We actually want to make the watch disappear into the background. It's supposed to be a blank canvas for you to paint your idea on."
Still, it's good to know what you're getting with your money. The Noodoe Watch looks like a fitness band as we've described, and it includes a small, monochrome display running at a resolution of 32 x 128 pixels. It's designed to fade on and off accordingly, which is a feature that Wang calls "Lumina Skin". Notifications, messages, information and — of course — the time will fade into the screen when you shift your wrist or take a peek. When you're done with the device, the display will fade out again as if it's not even powered on. With this unique setup, the device should be able to last a full seven days on a single charge. Though, Wang and his team have indicated they want to push the boundaries when it comes to battery life, hoping to offer at least fifteen days on a single charge.
As any other smartwatch, it pairs to a companion device — your smartphone — through Bluetooth LE. That said, it doesn't need to remain connected in order to work properly.
When it comes to controls, there are no physical buttons, no touch based areas and no dials. As described above, everything is simply gesture based thanks to the Motion Magic controls. You can flip your wrist to reject incoming notifications, flick it to see the next item in the queue or even shake your wrist to call upon a specific function; it's all up to you.
Currently, the Noodoe Watch is set for a June launch. Wang and his team want to make it available no more than 60 days after the Apple Watch launch. Wang also claims that it will be available globally for less than $100. Evidence that the team is sticking to the "affordable" part of their promise.
We'll find out soon enough if this idea pans out. What do you think of the Noodoe Watch? Are you interested in customizing a device as much as this one allows?